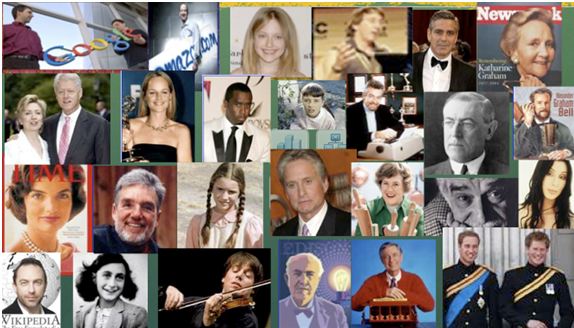 What do they all have in common?
If your answer is "Montessori" you are are right.
Montessori teaches kids to be self-directed, self-starters, and acquires a love of learning. But where can all this lead?
Here are some of the stories of the Montessori alumni:
Larry Page and Sergey Brin, founders of Google, recently told ABC News that they count a Montessori education as a major reason for their success.Jeffrey P. Bezos, the founder of Amazon.com, was always completely engrossed in his Montessori activities, as a young child. In fact, his mother contributes this trait directly in explaining toward why the company he founded, Amazon.com Inc., has become the most dominant Internet retailer in the world.Dakota Fanning, the amazingly successful actress, at a very young age (the youngest person ever to have been nominated for a Screen Actors Guild Award) explains her love of reading to Montessori. "I learned to read at two. I was in a Montessori school and they teach you to read really, really young." Dakota FanningWilliam Wright, the designer of one of the most successful and popular computer games in history says this about his Montessori experience, "Montessori taught me the joy of discovery…It showed you can become interested in pretty complex theories, like Pythagorean theory, say, by playing with blocks. It's all about learning on your terms, rather than a teacher explaining stuff to you. SimCity comes right out of Montessori, if you give people this model for building cities, they will abstract from it principles of urban design. Will Wright, Computer Game Designer
There are many other amazing individuals who proudly speak of Montessori's influence on their lives. Here are just some of them:


Katherine Graham, owner of the Washington Post

Jacqueline Bouvier Kennedy Onassis, former first lady
Sean P. Diddy Combs
Anne Frank famous WWII era author
Gabriel Garcia Marquez, Nobel Prize winner for Literature
Prince William and Prince Harry
Melissa Gilbert (Little House on the Prairie)
Stephen J. Cannell, TV writer-producer-director
Patty Duke Austin, actress
Cher Bono, singer-actress
John Bradshaw, psychologist and author
Yul Brynner, legendary actor
Bill & Hillary Clinton
Michael Douglas, actor
Jimmy Wales, founder of Wikipedia
Julia Child, first TV chef
Helen Hunt, Academy Award-winning actress

George Clooney, Academy Award-winning actor

Joshua Bell, American violinist, owner of Stradivarius violin
And then there are still others who have influenced the progress of the Montessori method:
Alexander Graham Bell, inventor of the first practical telephone, and his wife Mabel, provided financial support directly to Dr. Montessori and helped establish the first Montessori School in the United States in 1913.
Mister Rogers, children's TV personality, was a strong supporter of Montessori Education.
Thomas Edison, inventor of the first practical light bulb, helped found a Montessori school.
President Wilson's daughter was a Montessori teacher. In fact, there was even a Montessori Classroom in the White House.