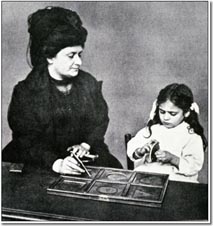 Always ahead of her time, Maria Montessori became Italy's first female Doctor of Medicine, in the late nineteenth century. Throughout her life, she used her knowledge and experience in psychiatry and pediatrics to develop an approach to education, which can be used to bring out the maximum human potential in every child. Her desire to help drove her to give up her medical career, and set up a school for sixty young children of working parents in Rome. This was the beginning of the "Children's House", which ultimately became the Montessori method.
America was introduced to Montessori in 1913, when Alexander Graham Bell's family started a Montessori Association in Washington, DC. Thomas Edison and President Woodrow Wilson were among the first ones to recognize the Montessori method in the United States. She gained international fame, when the Spanish government invited her to open a research institute in 1917. Eventually, she made her way to India, where she started a series of courses to train teachers to follow the Montessori method. Her work and discoveries has made her one of the most leading figures in humanity. She was one of the only people in the history to be nominated for the Nobel Peace prize three times.
One of her concepts is called the Absorbent Mind, which dictates that in the first six years of the child's life, the brain works very differently then that of an adult, and it "absorbs" information easily. The idea is that the child's mind absorbs lessons from the environment, without being aware of it. This information is later fed to him in conscious form, and becomes a part of his life, and thus the perception of his world. Hence, in the classroom the child is quite free to work and learn; they learn at their own pace, finding joy and becoming problem solvers. This love of learning teaches them to become leaders and gain immense self-esteem.
Maria Montessori was born in Italy in 1870, but her legacy lives on in Montessori Schools today.